Sponge Sliding Window Cleaning Brush
Sliding Cleaning Brush: Use this brush to clean your windows, kitchen corners, bathroom seat, tiles, under doors and much more easily in no time.
Creative Design: This window cleaning sponge has a  non-slip ABS material and sponge pad. It is comfortable to hold, easy to clean and will not make your hands dirty. 2 pieces of sponge are clipped together for cleaning the sliding track perfectly.
Easy to Use & Clean: The window groove cleaning brush has a detachable buckle design, so you can easily replace the cleaning brush pad, making your sponge more hygienic.
Wide Use: Moreover this window cleaning brush has excellent cleaning effects in various places, like window grooves, shutters, shower door sliding doors, refrigerators, keyboards, door rails, etc. You can use a dry sponge or a wet sponge according to the actual situation.
Material: PP + Clean Sponge
Size: 14 x 8.5 cm
Color: Multi-color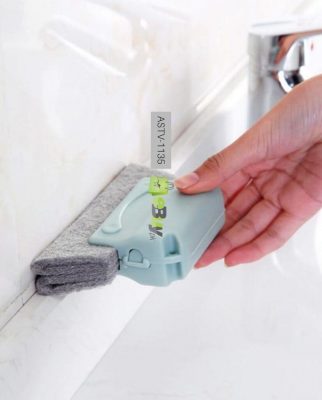 eBuy.pk offers the best quality Sponge Sliding Window Cleaning Brush online at best price in Pakistan. We provide quality products at the lowest prices from the market. Moreover, speedy shipping with cash on delivery in Karachi, Islamabad, Lahore, Islamabad, Rawalpindi. Faisalabad, Sialkot, Peshawar, Quetta, Faisalabad, Multan and all over Pakistan!